Selected Pages from
The WomanSource Catalog & Review
Healthcare
Following is a two-page selection from "Healthcare," an eleven page topic within
Chapter II. Ways of Living. The first selected page is entitled "Women Speak on Healthcare" and is found on
page 81 of The WomanSource Catalog & Review. The second selected page is entitled "Health Networks/Self-Help" and is found on page 83 of The WomanSource Catalog & Review.You can select a review of a single resource entry from the Page Menu or scroll through the resources found on these pages by clicking either the highlighted "Women Speak on Healthcare" or the "Health Networks/Self-Help" links.

---
Other Selected Pages From The WomanSource Catalog:
*Environment & Nature * Healthcare* Security & Protection * Sexuality *
* Pregnancy & Childbirth * Sports & Fitness * Travel*
Back To Table of Contents
---
*Page Menu*
II. Ways of Living
Healthcare
(Women & the Medical Establishment, Women Speak on Healthcare, Medical Consumer, Health Networks/Self-Help, Women & AIDS, Medical Industry/Healing Alternatives, Cross-Cultural Healing Systems, Natural & Herbal Healing, Homeopathy/First Aid, Alternative & Low Income Access)
Women Speak on Healthcare (pg. 81, II. Ways of Living)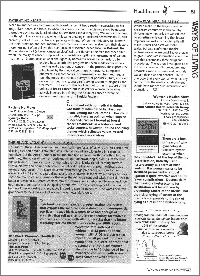 Patient No More: The Politics of Breast Cancer (book)
Parlor Talk (mammogram statistics)
Women's Health Alert (book)
Black Women's Health Book:Speaking for Ourselves (book)

Health Networks/Self-Help (pg. 83, II Ways of Living)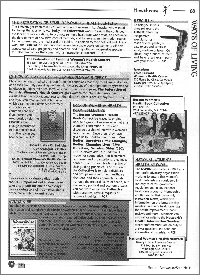 The Federation of Feminist Women's Health Centers (organization)
Speculum (product)
How to Stay Out of the Gynecologist's Office (book)
Boston Women's Health Book Collective (organization)
WomenWise (periodical)
National Women's Health Network (organization)

---
THE POLITICS OF BREAST CANCER
When my mother was diagnosed with breast cancer, it had already metastasized to her lungs, liver, bones and brain, so when her cheery oncologist explained she'd be getting chemotherapy, I naturally asked why; his less than candid reply was, "We're going to beat this thing!". There came a day when this same oncologist declared her terminally ill, and promptly lost all interest in her and patience with me. When I tell this story to illustrate the misinformation and dehumanizing treatment many women receive from their doctors, those hearing it often believe this is an unusual or isolated experience. In Patient No More, Sharon Batt (a breast cancer survivor) calls this dynamic the fear and cheer filter, where the reality of cancer is replaced by unrealistically optimistic assessments of various treatments. Sharon looks at what she rightfully names the breast cancer industry to explore how so little real progress has been made in our understanding and treatment of cancer. In the process, she exposes the role played by the medical community, insurance companies, pharmaceutical companies, government researchers and regulators, the media and various purveyors of popular culture, and even cancer charities, in creating a self-serving system of diagnosis and treatment. The value of this book lies not just in its exposé of the politics of breast cancer, but in its call for women to become actively involved in defining the future of cancer prevention, diagnosis and treatment. ~ Patricia Pettijohn

Patient No More
The Politics of Breast Cancer
Sharon Batt, 1994; 417 pp.
Gynergy Books
P.O. Box 2023, Charlottetown
Prince Edward, Canada C1A 7N7
$19.95 per paperback, $22.40 (postpaid)
ISBN #0-921881-30-4


(excerpt)
As a patient with no medical training, I was initially intimidated by disagreements among medical camps. How could I possibly have an opinion when experts disagreed? When I looked at breast cancer treatments in a historical and social context, however, I found recurring themes which reflected values, vested interests and world views.

---
---
PARLOR TALK

Parlor Talks appear throughout the catalog within this graphic, represented by one of our favorite labor leaders, the indomitable and never-at-a-loss-for-words Mary Harris "Mother" Jones. In her day Mother Jones was termed "the most dangerous woman in America;" we thought it only fitting that she be the icon for our Parlor Talks which offer pithy pieces of information, quotes, eye-opening statistics and whatever appropriately subversive goodies we could get our hands on. We think Mother Jones would be proud. If you want to learn more about Mother Jones, check out Mother Jones Speaks: Speeches and Writings of a Working-Class Fighter available from Pathfinder Press for $28.95, 212-741-0690.

Parlor Talk


Among women under 50, mammograms correctly detect dangerous lesions only 56% of the time, and only 10-12% of the positive mammograms were actually due to cancerous lumps.

---
---
WOMEN'S HEALTH ALERT
Women make up the largest group of healthcare consumers in this country. Unfortunately, not only are we seduced by advertisements claiming that breast implants will make us happier, pills will make us freer and diets will make us sexier, but also confronted by medical professionals who are unwilling or unable to give us accurate information about the risks that accompany these drugs and procedures. The authors investigate 12 of the most common pills, procedures and products aimed at women and concisely explain their risks and benefits. This is one book that every woman who has any contact with the medical establishment should have for her own information and protection. ~ FGP

Women's Health Alert
Rhonda Donkin Jones &
Sidney M. Wolfe, M.D., 1991; 325 pp.
Public Citizen Health Research Group
1600 20th St. NW, Ste. 700
Washington, DC 20036
$7.95 per paperback
202-588-1000
ISBN #0-201-55041-5


(excerpt)
There are a host of "reasons" why gynecologists perform hysterectomies when they shouldn't. At the top of the list is sterilization, basically using hysterectomy as a form of birth control. If a woman wants to be sterilized permanently, a tubal ligation is quite effective and has far fewer complications. Doctors claim that having a hysterectomy for sterilization will benefit you by preventing cancer of the uterus. But the risk of dying of cancer of the uterus is comparable to the risk of dying as a result of a hysterectomy.

---
---
THE BLACK WOMEN'S HEALTH BOOK
Not just for African-American women, these stories are for all of us who are "sick and tired of being sick and tired." Through essays, interviews and anecdotes told in a manner reminiscent of the African-American spiritual tradition of calling forth the faithful to give testimony, the voices of women, both known and unknown, ring out on issues affecting our well-being. There are stories of triumph over chronic disease; of learning anew to trust ourselves; and on understanding the political implications of poor healthcare as a means of oppression. The issues covered, from teenage pregnancy to lupus to the epidemic of AIDS and increased drug abuse, are as diverse as the stress we carry each day. These are real voices of experience that offer the reinforcement and wisdom we all need to better understand our career choices, family pressures and society's indifference, and how each impacts our health and the quality of our lives. This is a wake-up call for women to be more knowledgeable and proactive in seeking care for ourselves. The words here can give power to the survival of all women. ~ Annette M. Anderson

The Black Women's Health Book
Speaking For Ourselves
Evelyn C. White, ed., 1994; 304 pp.
The Seal Press
3131 Western Ave., Ste. 410, Seattle, WA 98121
$14.95 per paperback, $17.19 (postpaid)
206-283-7844 MC/Visa
ISBN #0-931188-86-5


(excerpt)
This book is also a heartfelt protest against the racism that cripples the medical establishment and consequently our lives. It says black women have had enough of the statistics that tell us that the life expectancy for whites is 75.3 years compared with 69.4 for blacks; that the infant mortality rate for blacks is 20 deaths per 2000, about twice the rate suffered among whites; that 52 percent of the women with AIDS are black; that more than 50 percent of black women live in a state of emotional distress; and that black women stand a one in 104 chance of being murdered compared with a one in 369 chance for white women.

---
---
FEDERATION OF FEMINIST WOMEN'S HEALTH CENTERS
The FFWHC got its start in 1971 with a group of women in Los Angeles who wanted to change the abortion laws. Today, the Federation works to assure the continued availability of safe abortions, to promote self-help healthcare world-wide, to encourage the development of new birth control methods, and to serve as an information source to the government, the media and the public. In addition to their political and clinical work, the Federation also publishes several invaluable books on women's self-help gynecological care, pregnancy and abortion; and they offer an inexpensive speculum for self-examinations that comes with an instructional brochure. ~ FGP

The Federation of Feminist Women's Health Centers
633 East 11th Ave., Eugene, OR 97401 503-344-0966
*For a listing of Federation books contact the Chico FWHC at:
1469 Humboldt Rd., Ste. 208, Chico, CA 95928 916-891-1917

---
---
SPECULUM
To help you in your gyne self-exam, the FFWHC offers this inexpensive speculum. It's made of clear plastic, is easy to use and comes in small, medium or large. Go ahead, buy a bunch of them and have a self-exam party with your friends! ~ FGP

Speculum
Chico Feminist Women's Health Center
330 Flume St., Chico, CA 90028
$5.00 per item, $7.50 (postpaid)
916-891-1917 MC/Visa

---
---
HOW TO STAY OUT OF THE GYNECOLOGIST'S OFFICE
Many women seek medical attention for minor conditions that they could easily take care of on their own. By providing women with descriptions of their reproductive systems and by discussing odors, textures, secretions, bumps, lumps and pains, the Federation of Feminist Women's Health Centers gives women the information necessary to evaluate their own conditions. You can then decide if there is actually anything wrong and if you can treat yourself at home, in which case the book offers self-treatment advice for some common conditions. If you decide you need outside help, the FFWHC offers enough information so that you can take an active role in your healthcare. ~ FGP

How to Stay Out of the Gynecologist's Office
The Federation of Feminist Women's Health Centers, 1981; 136 pp.
Chico Feminist Women's Health Center
1469 Humbolt Rd., Ste. 200, Chico, CA 95928
$14.95 per paperback, $17.45 (postpaid)
916-891-1917 MC/Visa
ISBN #0-915238-51-9


(excerpt)
Since odor is a valuable diagnostic tool, it is important not to douche or take a tub bath for one or two days before going to a clinic or physician's office for a pelvic examination.

---
---
BOSTON WOMEN'S HEALTH BOOK COLLECTIVE
The Boston Women's Health Book Collective traces its origins back to a group of women who met at a women's conference in 1969 and discovered a shared interest in women's health issues. Since then, they have given us four outstanding books: Our Bodies, Ourselves (198); Changing Bodies, Changing Lives (229); Ourselves, Growing Older (230); and Ourselves and Our Children. A model for cooperative, non-hierarchical businesses and organizations, they make consensus and shared leadership two of their guiding principles. The mission of the Collective is to help individuals and groups make informed healthcare decisions, and their approach includes not only the medical issues of health, but also social, political and economic issues. You can write or call the Collective with questions, referral requests or resource inquiries. ~ FGP

Boston Women's Health Book Collective
P.O. Box 192
West Somerville, MA 02144
617-625-0271

---
---
WOMENWISE
Published in the spirit of the wisewomen healers of our past, WomenWise shares information and experiences that relate to women's health concerns. It is filled with brief articles on topics ranging from cancer connections to product labeling, longer feature articles on current issues, legislative updates, book reviews, poetry and more. Once you start looking, you realize that sources for current information on women's health do exist; this is one we were particularly taken with. ~ FGP

WomenWise
A Quarterly Publication of the Concord Feminist Health Center
Concord Feminist Health Center
38 South Main St., Concord, NH 03301
$10.00 per year/quarterly
603-225-2739
*Low-cost or free subscriptions are available for low-income women and are financed by Supporting Subscribers ($25.00 or more).

---
---
NATIONAL WOMEN'S HEALTH NETWORK
The NWHN was started in 1977 as a non-profit advocacy organization working to ensure that women's health interests are considered in industry research, government regulation and in any national healthcare program. Membership entitles you to their bimonthly Network News, which gives information on the latest developments in women's healthcare, tips for health improvements, book reviews and more. Members can also call or write to the Network's Health Information Services, where staff members are on duty to answer questions and send out informational materials. ~ FGP

National Women's Health Network
Beverly F. Baker, Executive Director
514 10th St., NW, Ste. 400
Washington, DC 20004
$25.00 per year/membership
202-347-1140

---
---
---