Selected Pages from
The WomanSource Catalog & Review
Pregnancy, Childbirth & Motherhood
Following is a single-page selection from "Pregnancy, Childbirth & Motherhood," a twelve page topic within Chapter V. Ways of Caring. The selected page is entitled "Positive Pregnancy" and is found on page 310 of The WomanSource Catalog & Review. You can select a review of a single resource entry from the Page Menu or scroll through all of the resources found on this page by clicking the highlighted "Positive Pregnancy" link below.

---
Other Selected Pages From The WomanSource Catalog:
*Environment & Nature * Healthcare* Security & Protection * Sexuality *
* Pregnancy & Childbirth * Sports & Fitness * Travel*
Back To Table of Contents
---
*Page Menu*
V. Ways of Caring
Pregnancy, Childbirth & Motherhood
(About Motherhood, Infertility/Adoption Options, Positive Pregnancy, Teen Pregnancy/Birth Industry, Birthing Alternatives, Birth Partners, Alternative Birthing Resources & Childbirth Education, Midwifery, Postpartum/Breastfeeding, Breastfeeding)
Positive Pregnancy (pg. 310, V. Ways of Caring)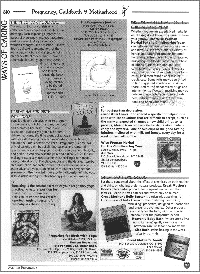 The Pregnancy Journal (journal)
Wise Woman Herbal for the Childbearing Year (book)
Preparing for Birth with Yoga (book)
Great Mother's Goods (catalog)

---
THE PREGNANCY JOURNAL
This unusual journal consists of a collection of 40 simple and beautiful line drawings, each depicting a moment or aspect of pregnancy, and each accompanied by a weekly diary page for a woman's thoughts and sensations. Ineke Boon's delicate representations of the intimacies, emotions and adjectives of pregnancy (fetal movement, frustration, spherical) eloquently figure this special time in a way that inspires response. And in later years, the book might serve as a loving record, to be shared between mother and child. ~ NY


The Pregnancy Journal
Ineke Boon, 1993; 43 pp.
ArtPro Press
1332 20th Ave. S, Lethbridge
Alberta, Canada T1K 1E9
$19.95 per hardcover, $24.95 (postpaid)
403-320-1546
ISBN #0-9697484-X


---
---
WISE WOMAN HERBAL FOR THE CHILDBEARING YEARS
Whether you are an experienced herbalist or, like me, don't know your sassafras from your yarrow, The Wise Woman Herbal for the Childbearing Year can help you achieve a healthy pregnancy and birth. Susan Weed offers a variety of herbal and natural treatments for conditions ranging from infertility or threatened miscarriage to bladder infection to a host of labor situations like stop-and-start contractions or breech baby. There are also some wonderful suggestions for baby care, like remedies for diaper rash or cradle cap. Some folks may be surprised to find suggested abortifacients, while those used to the standardized drugs and interventions of Western medicine may be dubious. Let me tell you: blue cohosh beats pitocin hands down! Open this book and open your mind. ~ NY

Wise Woman Herbal for the Childbearing Year
for the Childbearing Year
Susan S. Weed, 1986; 171 pp.
Ash Tree
P.O. Box 64, Woodstock, NY 12498
$8.95 per paperback
914-246-8081
ISBN #0-9614620-0-0


(excerpt)
For post-partum depression: Lemon Balm Leaves. Considered a specific for helping one cope with life situations that are difficult to accept, such as the many unexpected changes a new child brings to its parents, Melissa is an old favorite for depression, melancholy and hysteria. One or two cups of the good tasting infusion, mellowed with milk and honey, every day for a week or two will suffice.


---
---
PREPARING FOR BIRTH WITH YOGA
Yoga is a deeply effective exercise program for pregnancy, childbirth and motherhood, and promotes flexibility, strength and relaxation. Especially if you have other children at home, the time spent doing yoga with your developing baby is a wonderfully special time to explore the uniqueness of this child. Pregnancy is a time not only of weight gain, but of shifting balance and center of gravity, and yoga can help you maintain coordination, flexibility and grace. It can also ease the pain and difficulty of childbirth, making it especially attractive for those seeking a non-medicated, natural birth. The photographs and the detailed step-by-step instructions for each posture will enable beginners and more advanced yoga students to learn routines designed for pregnancy. Also included is an excellent discussion of why yoga is so valuable during the childbearing years. ~ Lori Roscoe

Preparing for Birth with Yoga
Janet Balaskas, 1994; 224 pp.
Element Books, Inc
c/o Penguin USA/Order Dept.
P.O. Box 999, Dept. 17109, Bergenfield, NJ 07621
$14.95 per paperback, $16.95 (postpaid)
800-253-6476 MC/Visa
ISBN #1-85230-431-6


(excerpt)
Squatting is the central exercise of your pregnancy yoga practice. A natural position for giving birth, it opens your pelvis to its widest and creates a perfect angle of descent for the baby in relation to gravity.

---
---
GREAT MOTHER'S GOODS
For those concerned about the effect of chemicals on both mother and child, or who just prefer natural products, Great Mother's Goods offers herbal products for pregnant women and their families. Made in small batches and tested only on humans, Great Mother's Belly Butter is particularly appealing—a luscious salve of herbs known for their "relaxing, nourishing, rebuilding" properties, designed to soothe skin and prevent stretch marks. Other products are mainly for the bath, with two special standouts for the postpartum period: Heavenly Baby Bath (whose aroma lives up to its name) gently cares for rashy newborn skin, while for new moms the Sitz Bath assists healing in the week after birth. ~ NY


Great Mother's Goods
P.O. Box 2434, Durango, CO 81302
Free catalog
800-984-4848


---
---
---