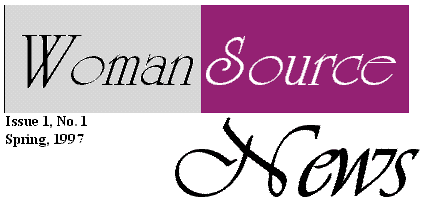 ---
Brewing the First WomanSource Satellite Workshop
On April 17th of last year, Nancy Warren of Bloomington, Indiana conducted the first ever WomanSource Satellite Workshop. Nancy, a licensed pilot and a contributing reviewer to The WomanSource Catalog wanted to bring together women in her community to discuss The WomanSource Catalog, connect with the voices of other women and share in the empowerment of women through information. She organized an informal lunch-time workshop in a local independent bookstore. The result: the gathering of a small, but dynamic group of women from all walks of life who vastly enjoyed the hour-long discussion and plan to continue to meet regularly. Here's what Nancy had to say about the experience:
Nancy's Letter

A Letter From One of the Attendees

Dear Ilene,

As I mentioned...the group was fairly small, but the quality and interest was superb...everyone was in agreement as to the importance of having access to information in meeting needs and resolving problems. Susan and I had copies of the book laid out so that each person could have one to refer to as we talked. As you can see the bookstore provided a nice setting for the gathering place. A couple of gals brought their lunch; one woman brought a small child who slept quietly through our meeting and was discreetly breast-fed upon awakening; a psychologist took her lunch hour to attend and three of my support buddies showed up. Everyone bought books! A couple of gals who could not attend that day have since come into the bookstore, purchased the book, and signed up for any meeting the group might have from this beginning connection...I have no doubt that something really beautiful was set in motion and will continue to manifest in ways that will enrich Life. I wish you could have been there to see the ripples forming from the stone that is the creation of your book.

Dear Nancy,

How wonderful to see you today. I've always admired you and the exceptional contribution that you make to our community and to the world at large. You are a perfect example of how each of us can make a difference being here. Thank you for introducing us to the splendid resource. I've already mailed copies to Quinn and Alexa. We will all tell others about it. See you this fall or winter when we gather to talk about ancient women and their roles in society - from women's perspectives.
Love, Christine
Many women from around the country are following suit and you can too. If you are interested in conducting a satallite workshop in your community, contact The Launch Pad for information or to receive a free WSC Satellite Workshop kit.
The Launch Pad 8311 Jackson Springs Rd. Tampa, FL 33615
Phone: 813-886-6791 Fax: 813-249-0105 E-mail: woman@womansource.com
---
WomanSource Catalog Completes 2nd Printing— Updated & Revised, Now Including Websites
Thanks to everyone's support, The WomanSource Catalog sold out its first printing and is now a feature selection in Book of the Month's One Spirit book club. The second printing, available through The Launch Pad or directly from Ten Speed Press (see below), includes updates, the addition of many great women-powered Websites and a revised chapter on "electronic media." Order direct or reserve a copy from your local bookstore. *A very special thanks to all those who sent wonderful letters of support and encouragement over the last year. Your energy is inspiring!
Launching Our Website
We are pleased to announce the completion of The WomanSource Catalog Online located at www.womansource.com. The Website includes such great features as a reprinting of the introduction and table of contents, sample pages from the book, a forum for resource sharing, information about Launch Pad projects and, of course, links to the best women's sites on theWeb. You can even order books right online through the online bookstore, Amazon.com (www.amazon.com) at 20% off the regular retail price.
Don't miss it!
WSC Special Benefits Program for Women's Groups, Businesses and Organizations
We want to make every effort to continue our support of women's organizations. That's why we developed the WSC Special Benefits Program. Here's how it works: the book, which retails for $22.95, is made available to you at a same-as-bookstore discount of 40% or $13.25 per book. We also waive shipping costs. You may order as many books as you like on a consignment basis for your event or conference. Books can be shipped directly to your event and unsold books are simply returned to us at the conclusion of the event with a check for those sold. You may also opt to purchase remaining or additional books at the same 40% discount. Some groups who have taken advantage of the Benefits Program for their annual conference include The National Women's Studies Association, National Wellness Conference, Midwifery Association, National Women's Music Festival and the Feminist Majority Foundation, which sold over 60 books at their Washington, DC Expo '96. Orders can be phoned or faxed directly to The Launch Pad and books can be drop-shipped anywhere in the U.S. For more information or to place your order, please contact The Launch Pad at 813-886-6791.
Bring the Launch Pad to your Community
Hosting a WomanSource Satellite Workshop is one way to bring the power of The WomanSource to your community; bringing members of our organization to your locale is another. Managing editor, Ilene Rosoff, as well as staff members and contributing writers, are available for speaking engagements, book signings and workshops on empowering women through information access. We have also appeared on radio and television and would be happy to arrange for local interviews and seminars. Contact The Launch Pad at 813-886-6791 for event and workshop scheduling information.
---
Women Are the Architects of the Future.
Don't Leave Home Without Your Toolkit!

The WomanSource Catalog & Review
Tools for Connecting the Community of Women
Edited by Ilene Rosoff
(A Project of The Launch Pad)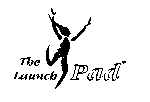 1997, 505 pages, ISBN: 0-89087-831-5, $22.95 per paperback
Published by Ten Speed Press/Celestial Arts (1-800-841-BOOK)
---
The Launch Pad is a not-for-profit organization specializing in access to information and resources for women. Our goals are to bring together practical ideas and solutions for meeting the challenges of life and to offer women a springboard from information to action. We maintain a database of information on books, periodicals, organizations, products, services and other resources collected by our staff members and referred by women globally. The Launch Pad promotes self-reliance and self-determination in all areas of life—whether building your own house, opting for an at-home birth or traveling the world. Our mission is to create vehicles which provide women with access to tools and ideas that educate, enlighten and empower. Consider The WomanSource Catalog & Review your point of departure.

Knowledge is power!
The Launch Pad 8311 Jackson Springs Rd, Tampa, FL 33615
Phone: 813-886-6791 Fax: 813-249-0105
E-mail: womansource@womansource.com